>>

ARRI AMIRA CAMERA SET (All included ) 35 mm Full HD CMOS videokamera
ARRI AMIRA

- all included - OBSAH BALENIA:

1x AMIRA Camera Body K1.71700.0
1x rukoväť (Camera Top Handle), držiak hľadáčika (viewfinder Bracket), káble
1x hľadáčik AMIRA OLED viewfinder MVF-1 (K2.75004.0)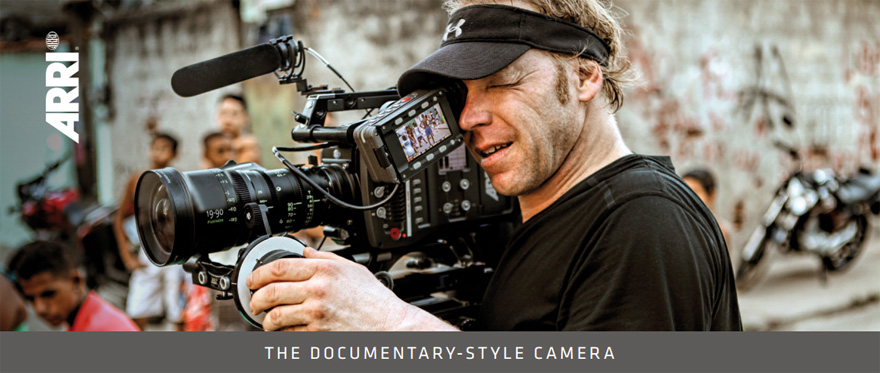 ARRI AMIRA: 35 mm Full HD CMOS Documentary-Style Camera Set »All Included« (K0.0001092)
ARRI proudly introduces AMIRA, a versatile documentary-style camera that combines exceptional image quality and affordable CFast 2.0 workflows with an ergonomic design optimized for single-operator use and extended shoulder-mounted operation. Ready to pick up and shoot straight out of the camera bag, AMIRA is hardy enough to take anywhere and features in-camera grading with preloaded 3D LUTs, as well as 200 fps slow motion. It is suitable for a great variety of production types, from reportage and corporate films to TV drama and low-budget movies, so wherever you are headed and whatever you need to shoot, let AMIRA be your companion.
AMIRA features the same sensor and exceptional image quality as the ARRI ALEXA, recording superior HD 1080 or 2K pictures that are suitable for any distribution format. With a dynamic range of more than 14 stops, low noise levels, subtle highlight handling, natural color rendering, breathtaking skin tones and speeds of up to 200 fps, AMIRA will deliver beautiful, life-like images in any situation.
AMIRA Image Film - City of God from ARRI Channel on Vimeo.
Features of ARRI AMIRA
Same 35 mm sensor as ALEXA
HD 1080/2K; Log C/Rec 709
ProRes up to 4444 on CFast 2.0 cards
Dynamic range of 14+ stops
Natural colors and skin tones
Up to 200 fps – full sensor area
Quick start-up – ready to shoot
Optimized for the single operator
Sliding dovetails – perfect shoulder balance
Internal ND filters (0.6/1.2/2.1)
OLED eyepiece and fold-away LCD monitor
Multi-channel audio – easy-access controls
Preloaded/custom-built 3D LUTs and looks
Adjustable looks – total color control on set
High creativity, low postproduction costsUpgradeable hardware and software
Solid lens mounts (PL/B4 2/3"/EF)
Sealed electronics and efficient cooling
Special Features Version »All Included« (K0.0001092) with Premium License
- HD 1080i & 1080p
- 2K (2048 × 1152)
- Framerates 0.75-200 fps
- Recording Formats ProRes 422 (Proxy), 422 (LT), 422, 422 (HQ), 4444 in Rec709 & Log C
- Unlimited Looks functions
- Import Looks, Import custom 3D LUTs
- In camera image parameters for Knee, Gamma, Saturation & other
- ASC CDL in-camera grading
- Focus and exposure control tools
- Dynamic Auto Tracking Whitebalance
- WiFi Remote Control
- Bluetooth Audio monitoring
- Pre-record function
What is in the Box ARRI AMIRA Set »All Included« (K0.0001092)
- AMIRA Camera Body K1.71700.0
- Camera Top Handle, viewfinder Bracket and cable
- AMIRA OLED viewfinder MVF-1 (K2.75004.0)
AMIRA boots up quickly and can be used straight out of the bag by a single user, with no setting up, no rigging and no delays. Sliding dovetails allow the camera to be perfectly shoulder-balanced for comfortable handheld shooting, while the innovative multi-viewfinder combines a high resolution OLED eyepiece with a fold-away LCD monitor that provides both a live view and full access to camera functions.
Uniquely, AMIRA comes with a number of 3D LUT-based looks that can be applied while filming. Alternatively, productions can custom-build their own 3D LUTs in external color grading systems, load them into the camera during prep, and even modify them on set. This gives cinematographers and directors a greater degree of creative control on fast-moving productions, while keeping costs down for producers.
The pre-loaded LUT feature essentially amounts to in-camera grading; it allows cinematographers to craft a consistent, identifiable visual approach, even on small- scale productions that cannot afford to pay them to attend the grade. Documentaries, dramas and commercials often involve a number of contrasting looks for different narrative or thematic elements. With AMIRA these looks can be created before the shoot and either 'burned in' to the recorded footage or used purely for monitor imaging. Either way, they give cinematographers and directors a greater degree of creative control on fast-moving productions, while keeping costs down for producers.
With a solid internal skeleton that guarantees camera and lens stability, AMIRA is a highly durable product constructed of the strongest possible materials. Sealed and capsulated electronics provide top level protection against humidity and dust, while an integrated thermal core results in an exceptionally efficient cooling system. All of this means that productions can take AMIRA anywhere, from jungles and deserts to snow-capped mountain tops, in the sure knowledge that it will not let them down. Whether on a Hollywood sound stage or a r emote documentary location, technical delays cost money – money that could be saved by working with AMIRA.
Like all ARRI products, AMIRA is designed to be a safe, long–term investment and built to withstand the rigors of life on a professional set. One of the reasons why ALEXA has been accepted so widely all over the world is that its build quality is significantly higher than competitor cameras, and the same is true of AMIRA.
About ARRI
Located in Munich, Germany, Arnold and Richter Cine Technik (A&R) was founded in 1917 and is the largest manufacturer of professional motion picture equipment in the world.
Throughout its 95-year history, ARRI has been associated with constant innovation and revolutionary technologies in all of its core businesses. The company is involved in all aspects of the film industry: engineering, design, manufacture, production, visual effects, postproduction, equipment rental, laboratory services and studio lighting solutions. Manufactured products include cameras, lighting fixtures and digital postproduction tools.
In addition to camera systems for 16 mm, 35 mm and 65 mm film, ARRI leads the field in digital acquisition with its ALEXA digital camera system, which delivers the highest quality images with minimal noise, wide dynamic range and workflows. Lighting products encompass traditional technologies as well as the latest advances in LED illumination, while the ARRISCAN film scanner and ARRILASER film recorder have become ubiquitous, indispensable tools in postproduction facilities all over the world. Film and digital image manipulation, restoration, archiving and preservation are addressed with products such as the ARRISCAN Wetgate and various archive tools.
The Academy of Motion Picture Arts and Sciences has recognized ARRI technologies and continual innovation with 18 Scientific and Engineering Awards. Most recently, the developers of the ARRILASER were honored by the Academy with the Academy Award of Merit (Oscar Statuette).
Špecifikácia ARRI AMIRA CAMERA SET (All included ) 35 mm Full HD CMOS videokamera